Reis Robotics
We develop and integrate automation equipment and complete turnkey solutions for efficient and sustainable production: specifically for your industry.
About Us
We are a globally active automation company and excel in robot technology and system integration. With our headquarter in Obernburg am Main, we are a recognized integrator for complex automation systems in major industries. Our product range includes special robots and automation components for the market segments welding, laser processing, multi-process automation and foundry technology.
The basis of the company's successful development since 1957 is the know-how of our innovative employees in the realisation of automation solutions from proprietary robot controls to turn-key automation systems. Since July 2023, Reis Robotics is part of the family-owned industrial group Aretè Cocchi Technology and FAI Holding. Previously, the company belonged to the globally leading robot manufacturer KUKA AG, which enabled us to advance our automation expertise and cell portfolio.
As an independent robotics automation company, we today integrate robots from all major OEMs into our automation solutions. In conjunction with many years of experience in a wide range of process technologies such as arc welding, laser welding and laser cutting, casting, deburring, handling, coating, assembly and many more, we also offer the necessary services to solve complex automation tasks in these application areas.
Learn more about us and our products on our website and let us master your challenges together!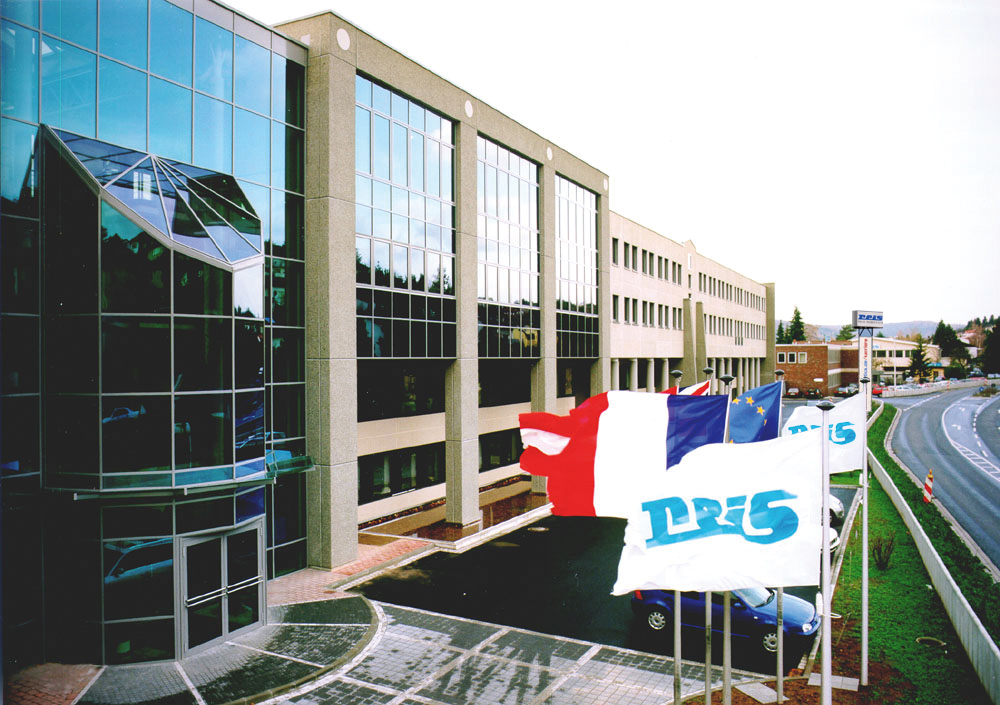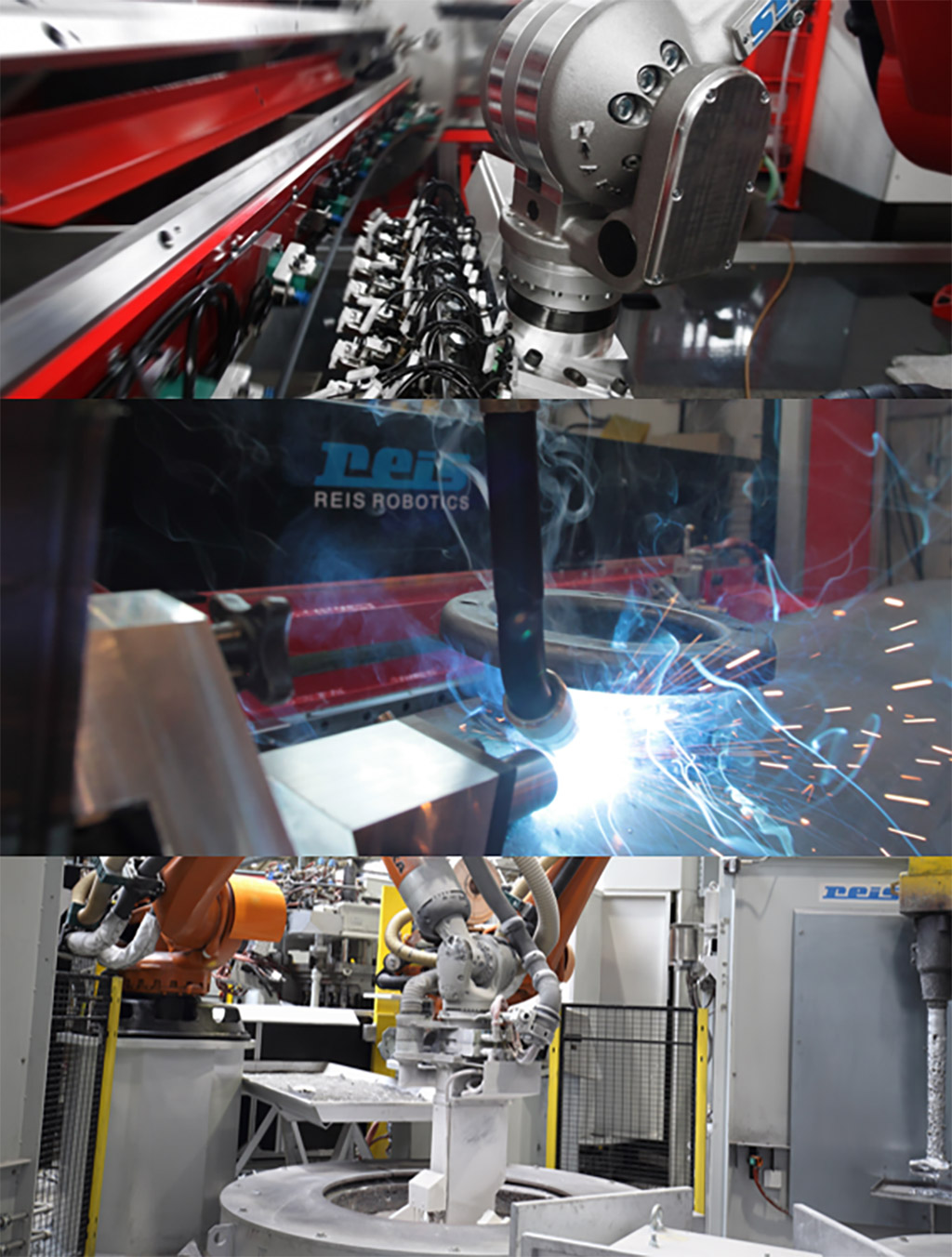 Handling & Processing – We automate diversity
We are your reliable partner for the conception, planning and realisation of turnkey automation solutions. Our focus is on multi-process automation, such as the production of solar modules, as well as the interlinking of your machinery and automation in the food and catering sector. In addition, we are specialists in solving logistics tasks, such as palletizing or depalletizing, and complete our portfolio by integrating AGV and AMR fleets.
Welding & Cutting - perfect cuts, strong connections, individual solutions
Welding & Cutting stands for flexible, scalable and smart solutions for automated welding and cutting. The application portfolio covers a very wide range of process methods such as MIG/MAG and TIG applications through to laser welding and laser cutting applications as well as laser additive manufacturing. We are experts in fully automated tank welding and complete assembly lines as applied in the automotive or heat pumps industry. In our in-house technical center, we can carry out feasibility studies for all processes so that we can find the right solution for your requirements. The modular portfolio can then be easily integrated to provide a cost-efficient and high-quality solution.
Casting & Deburring - customised automation for the foundry
We use our decades of experience in the foundry industry to master your challenges together with you. As a specialist in the automation of foundry processes, we offer a wide variety of solutions for the processes of die casting, low-pressure casting, permanent moulds, sand casting and grey cast iron. We accompany you with our ideas and technologies from the first concept to the turnkey solution. Our portfolio includes foundry robots, trimming presses for standard and GIGA castings size in the e-mobility segments, foundry machines as well as robotic trimming and fettling cells.
Customer Service
Together with you, we create the best solutions for the sustainable use of your facilities over their entire life cycle. In this way, we ensure the maximum availability and productivity of your system in the long term. 
Benefit from a unique range of consulting and support services at the highest level:
Training of your employees in our college
Remote and Hotline services – directly connected to you
Supply of spare parts and spare parts packages
On-site services such as maintenance, repair, refurbishment and modernisation of your system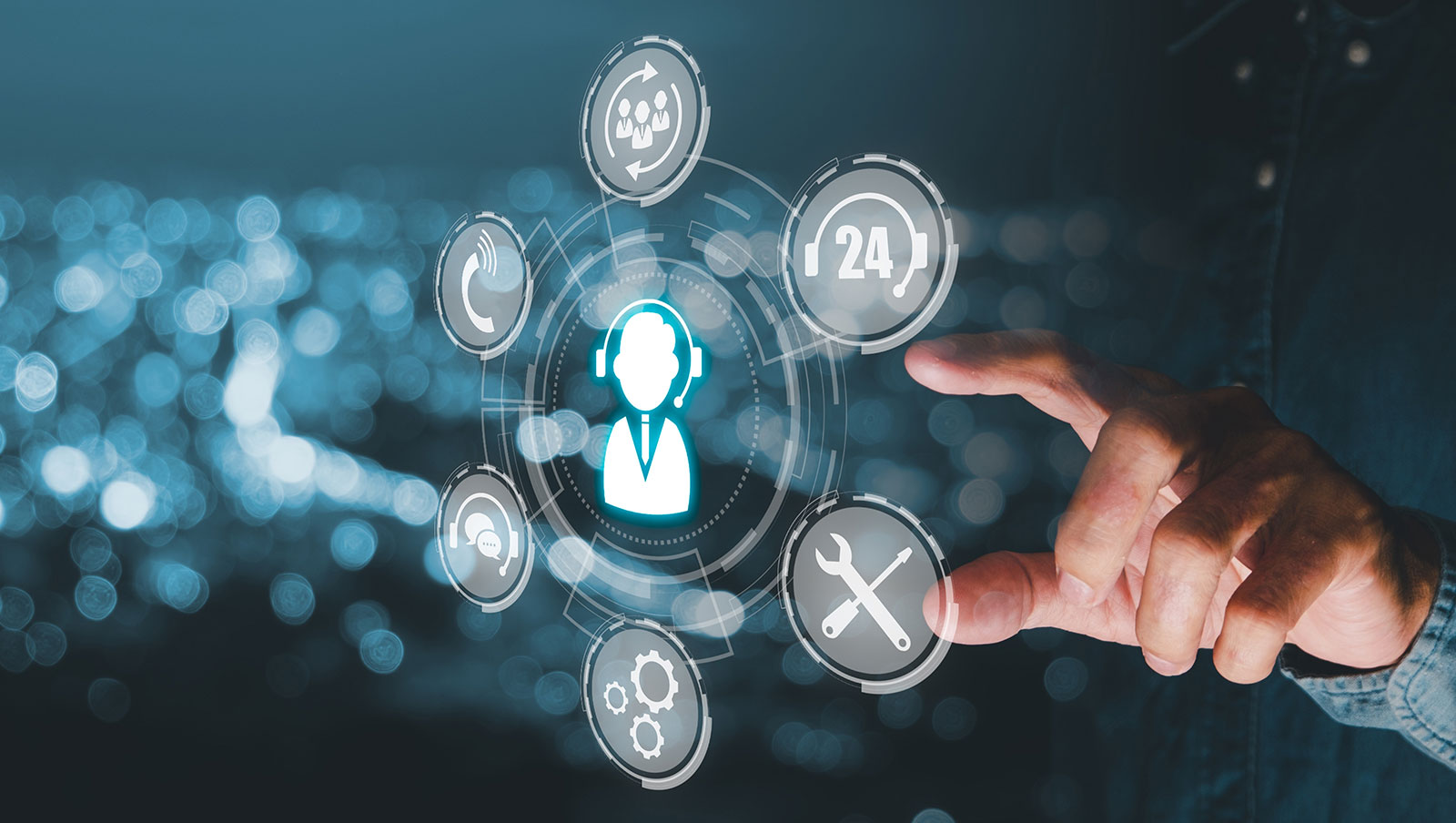 Solutions
The product range of Reis Robotics includes linear robots, gantry robots and the own robot control ROBOTstar.
In addition, there are the product areas of trimming presses, gravity die casting machines as well as the modular production cells and the manufacturer-independent integration of AMR (automated mobile robot).
For the complete systems in the areas of welding and cutting, foundry technology as well as handling and process technology, there is a wide range of standardized automation components in the company's own product range.
Robot
Reis ROBOTstar
The iconic Reis ROBOTStar VI robot controller operated via the familiar reisPAD has set standards in terms of path following accuracy for cutting, welding and positioning applications, simplicity & intuitive use, and ability to control more than 18 axes.
The graphic ProVis graphical visualisation and TouchMotion control enable simple and application-related operation and programming of the robot. The fully integrated SafetyController as well as the freely programmable safety PLC serve to protect people and save an external PLC for smaller applications. Open communication standards enable seamless integration into production systems. Upgrades for existing systems are also possible at any time. Please contact the Reis service department at any time.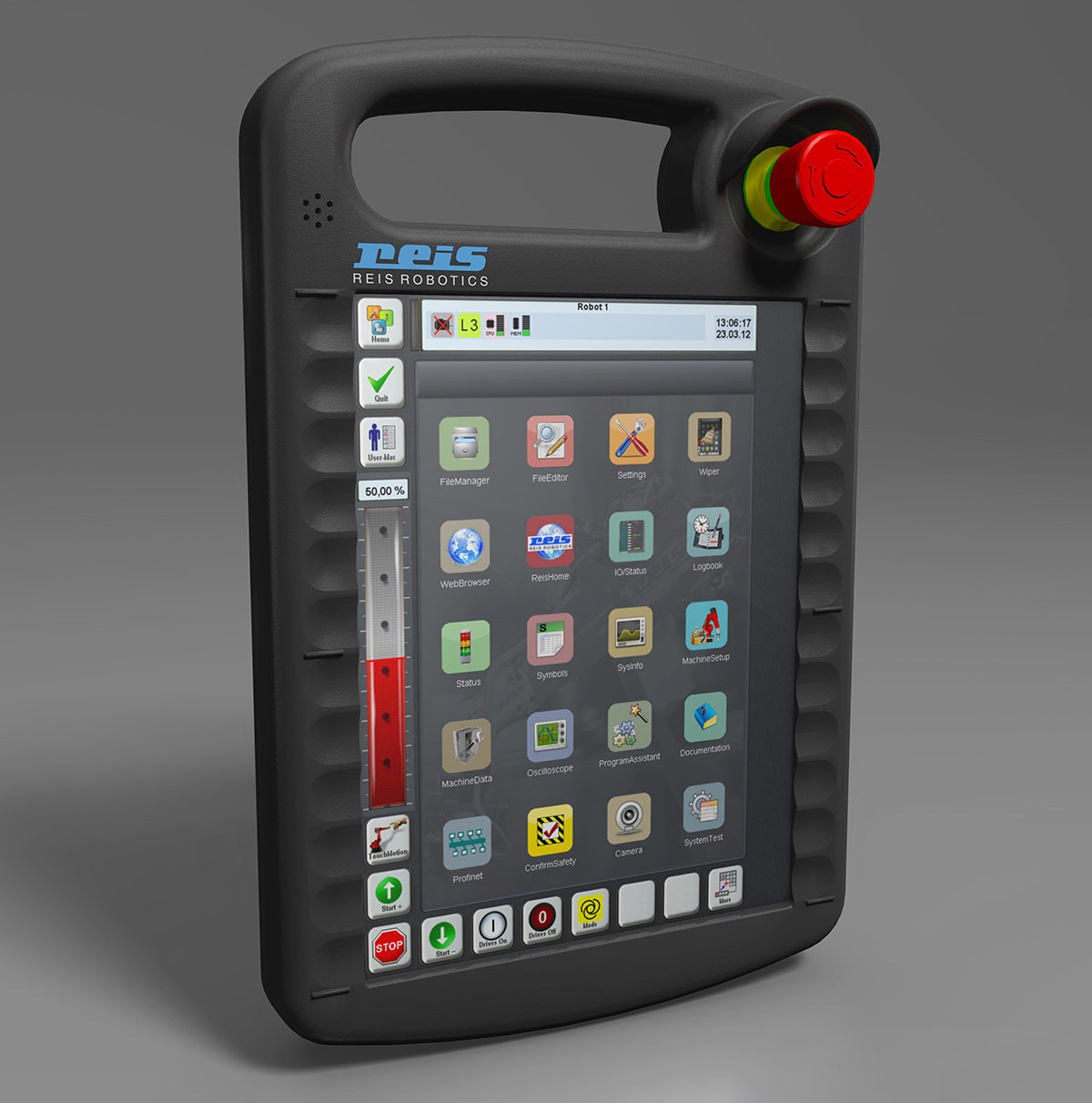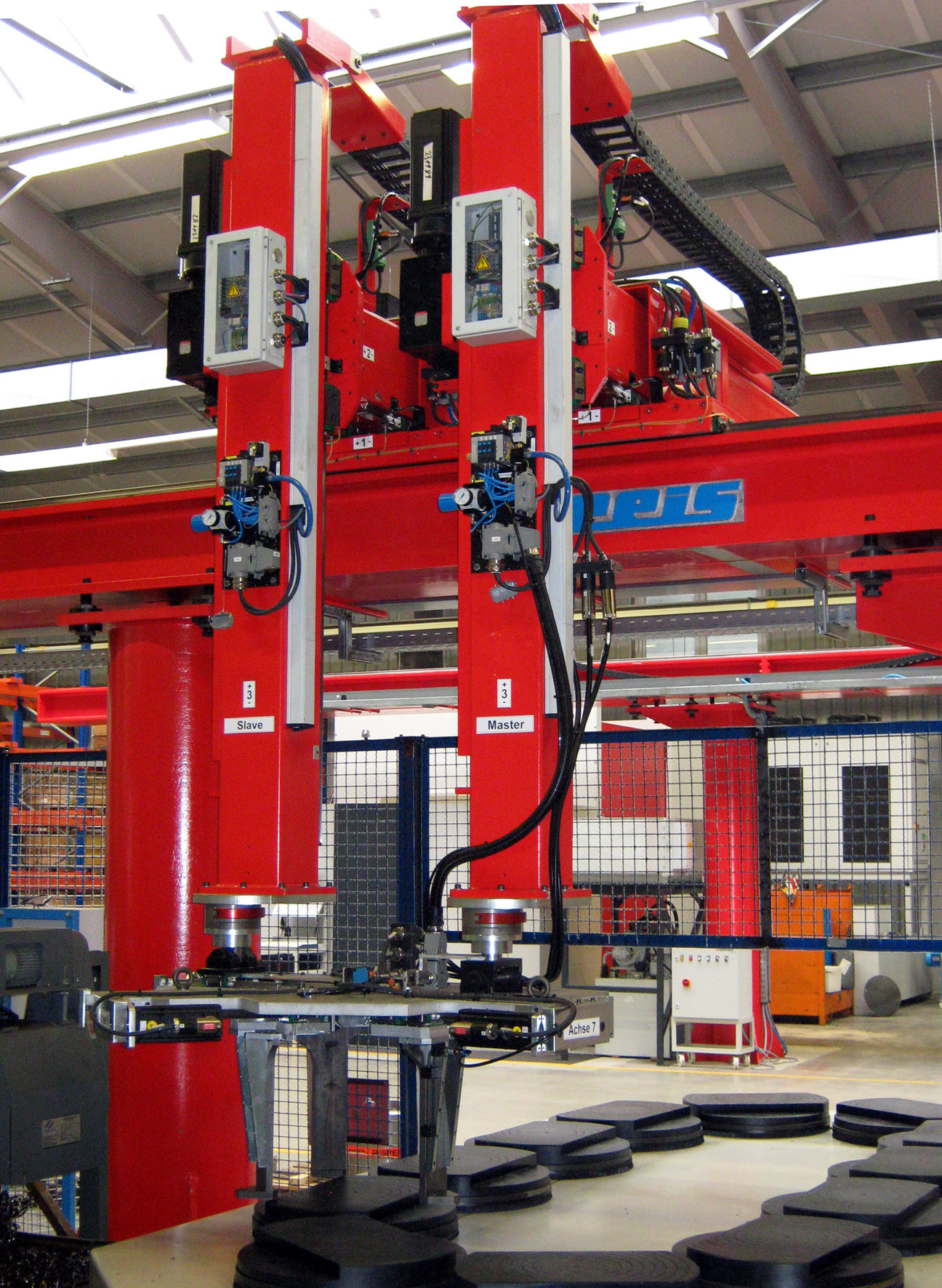 Linear- and Gantry robots
Reis Robotics offers a broad portfolio of linear and gantry robots.  The main field of application of these systems is the interlinking of workflows between machines and processing systems, such as automatic loading and unloading, turning and repositioning, production and casting systems. All machines can be flexibly adapted to customer-specific system solutions in terms of stroke lengths as well as through optional expansion with additional rotary axes and various gripping devices.
Positioner
A whole range of peripheral modules in various designs is available for the provision of workpieces, such as the rotating and tilting modules, which enable a component to be rotated. In addition, we also develop peripheral modules for changing workstations:
Turntables
Rotary turning positioners
Indexing tables for setting up several stations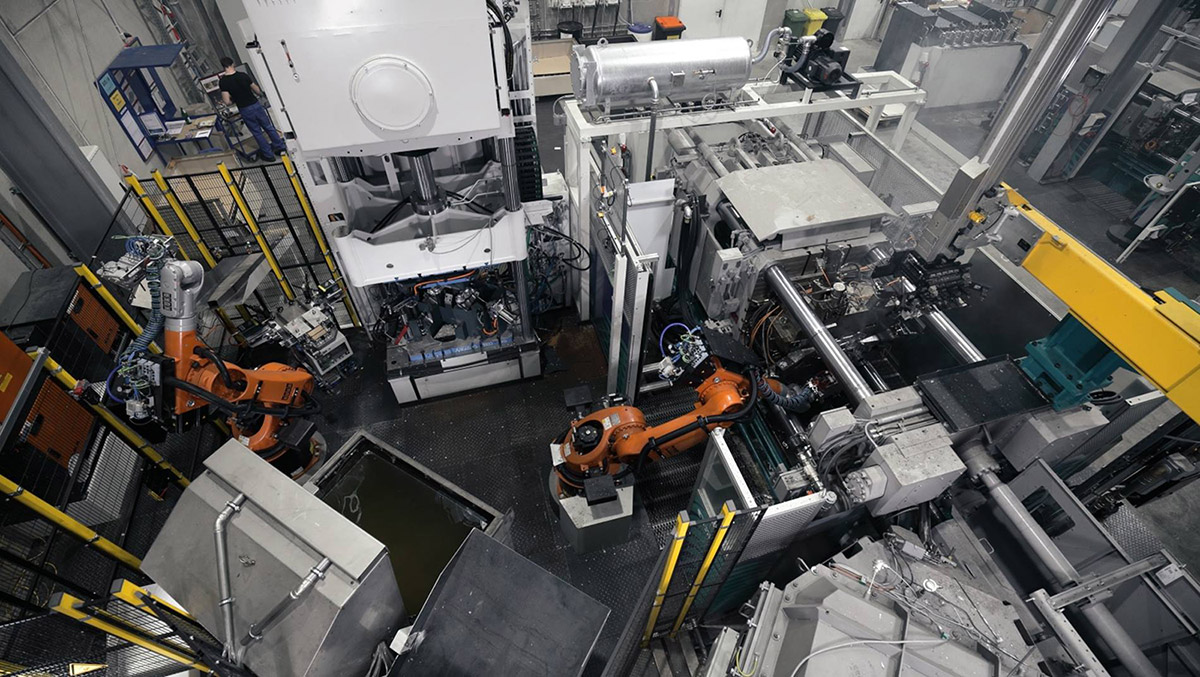 GIGA Casting
Die-casting machines with higher clamping forces offer new solutions for the automotive industry. Giga- or megacasting enable the production of structural components with increased functional integration and large dimensions. We will be happy to advise you with our know-how and products and work out an optimal deburring solution for your application – traditionally using large deburring presses or innovatively using laser technology.
Trimming presses
The entire series, with over 30 different sizes and models, in 3 or 4 columns, offers optimal solutions for manual or automatic operation. The presses are characterized above all by their speed, precision, and durability.
The customer receives special advantages thanks to low-backlash column guides and bending-resistant press frames that guarantee precise cutting. The deburring and machining of different planes in a single clamping ensures high economic efficiency and profitability.
Casting Machine
The innovative drive, operation, and control concept of the REIS ROBOTICS gravity casting machines offers you best conditions for an optimal casting quality. The gravity casting machines are available in different versions both as single and double tilting casting machines. All versions convince with the same advantages and can be used flexibly and efficiently in your production:
Robust and torsion-resistant mechanics
Innovative, low-play drive concept
Exact positioning through servo drive
Also suitable for linear casting cells and casting turntables
Interface for media system available (e.g. gas or cooling)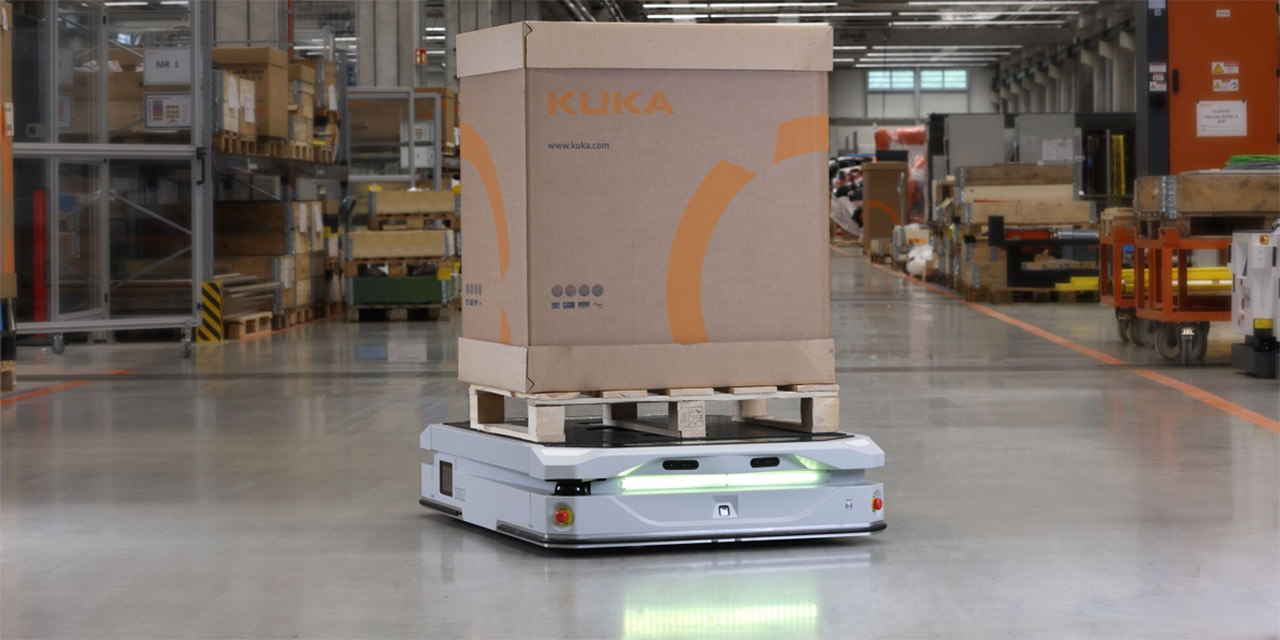 Discover the future of industrial automation with our AGVs and AMRs. A wide range of AGVs and AMRs from KUKA and other third-party vehicles can be connected to the intelligent fleet software. Our solutions enable seamless integration into your existing systems and utilize advanced IIoT technologies. The AGVs and AMRs are VDA5050 compliant and can be easily integrated into your production. Optimize your production processes and let us automate your intralogistics together.
Production cell portfolio
Whether welding, lasering, fettling and deburring. – our modular production cells offer high quality and performance at an attractive price. In addition to our application expertise and perfectly matched components, our cell portfolio is flexible to use, preconfigured, quickly integrated into production environments and easily scalable.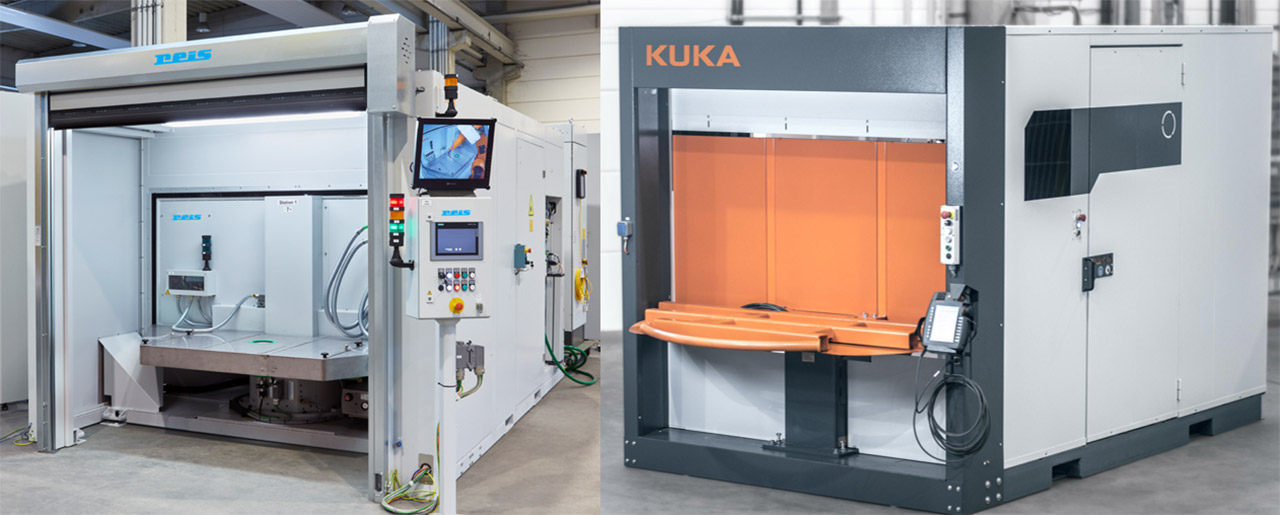 Our industry applications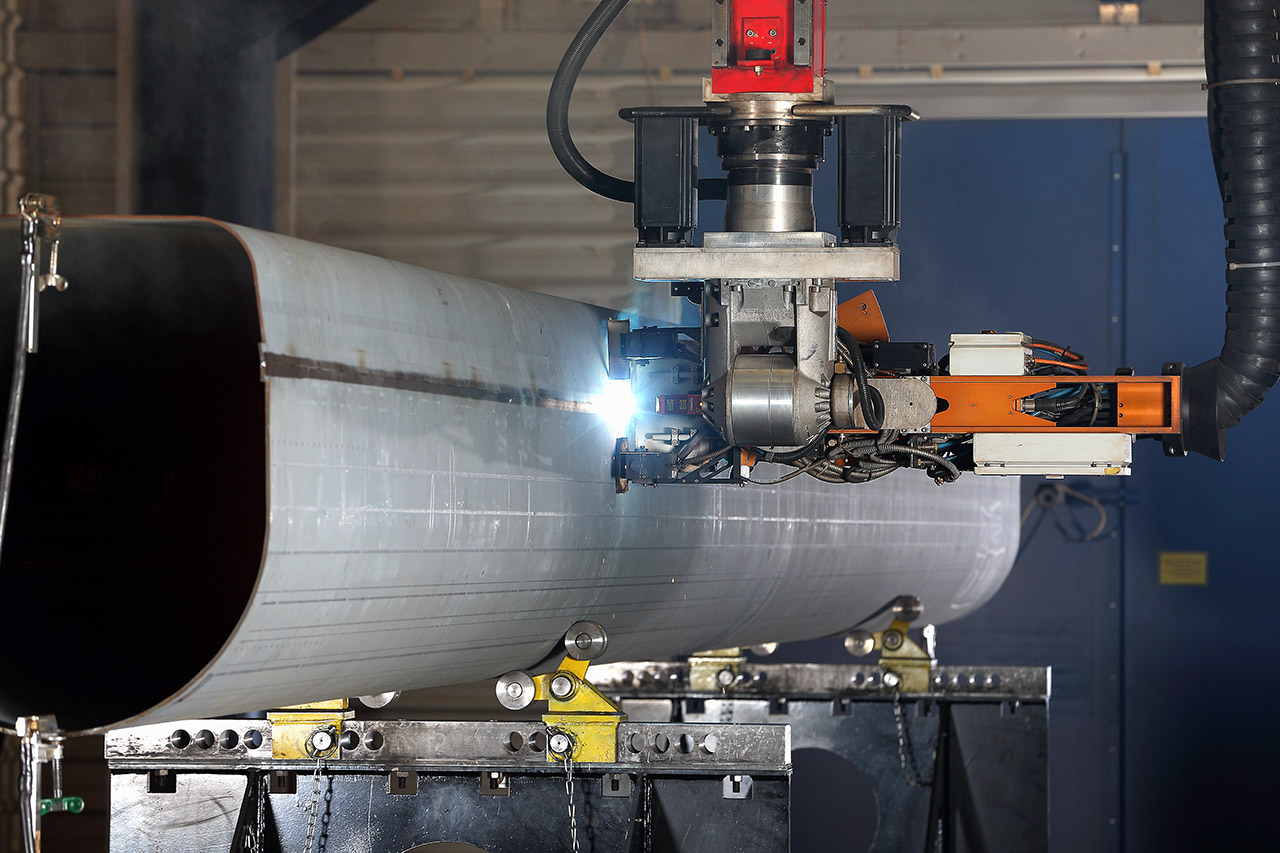 Metal Industry
Industrial automation solutions for the agricultural and construction machinery industry as well as for the metal construction and contract manufacturing industry - customized and individually designed. Our team offers comprehensive and professional advice as well as high quality of service for your requirements. Our Welding & Cutting portfolio offers application expertise in a wide range of welding and cutting processes as well as software, sensor technology and safety technology, tailored to your specific needs.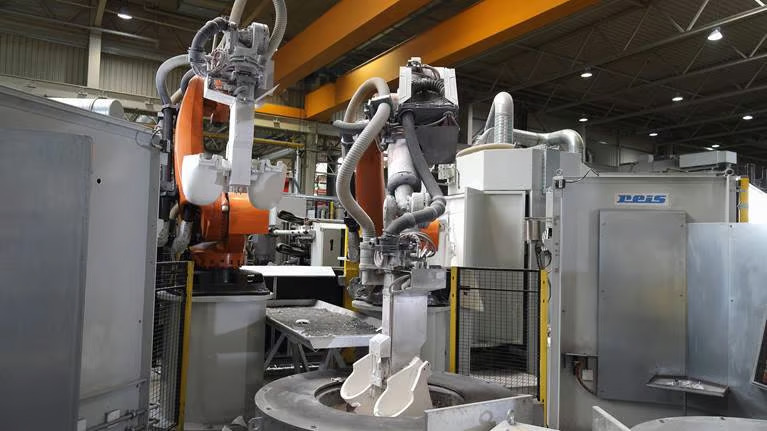 Foundry Industry
Our decades of experience in the foundry is reflected in our broad portfolio. Withmore than 16 different models of our trimming presses, the new GIGA Casting trimming presses, and the intelligent Dialog IV control system, we can realise modular, fully automatic cell concepts through perfectly matched components for flexible die casting cells or gravity die casting lines. We also offer solutions for processing sectors such as sawing, deburring, grinding or drilling, both as standardised, transportable cells and as modular cells or line concepts.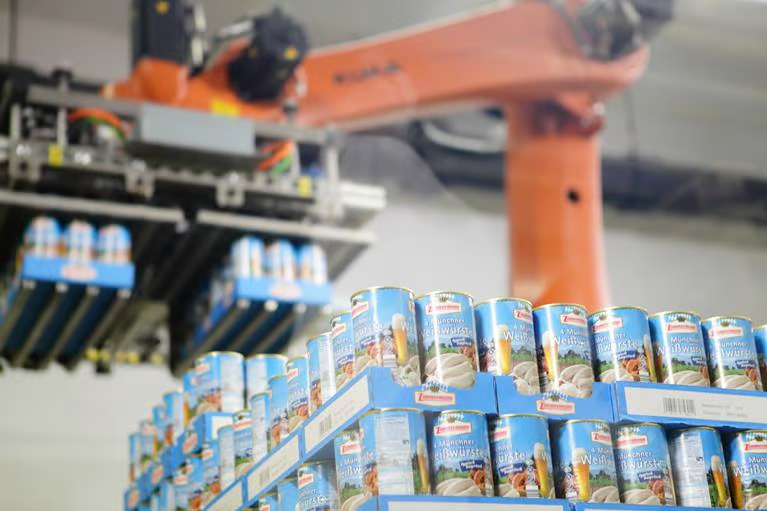 Food Industry
Our focus is on the efficient and precise handling of primary and secondary products in the food industry. We specialise in the development of pick and place applications that can be seamlessly integrated into ongoing production processes. Whether it is meat, cheese or other food products - we take on the task of picking your products safely. In doing so, we master both simple and complex picking applications that can be performed by multiple robots simultaneously. Our expertise in palletising and depalletising, as well as the seamless integration of AGV and AMR fleets, opens up completely new possibilities for automated picking of food products.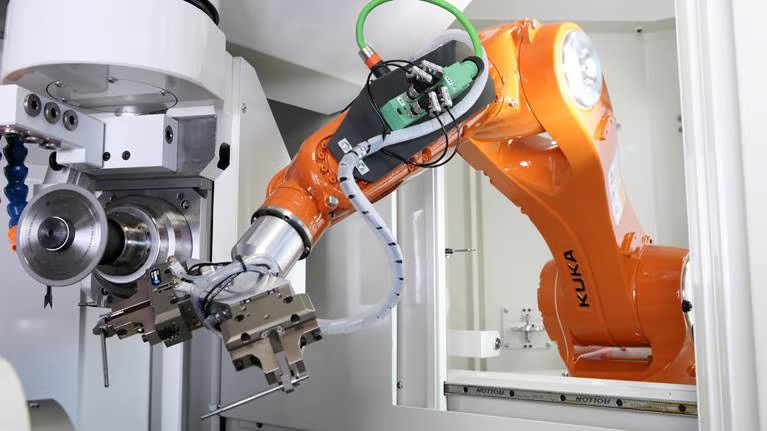 Loading and unloading of machines
The loading and unloading of machines and special machine tools is a key area in which we have been successfully active for many years. Using articulated arm and linear robots, we can customise your automation and integrate it into our partner model or rely on our proven modular cell portfolio. The integration of component recognition and labeling, camera-based DMC reading, component blow off and cleaning and quality inspection are all part of our portfolio.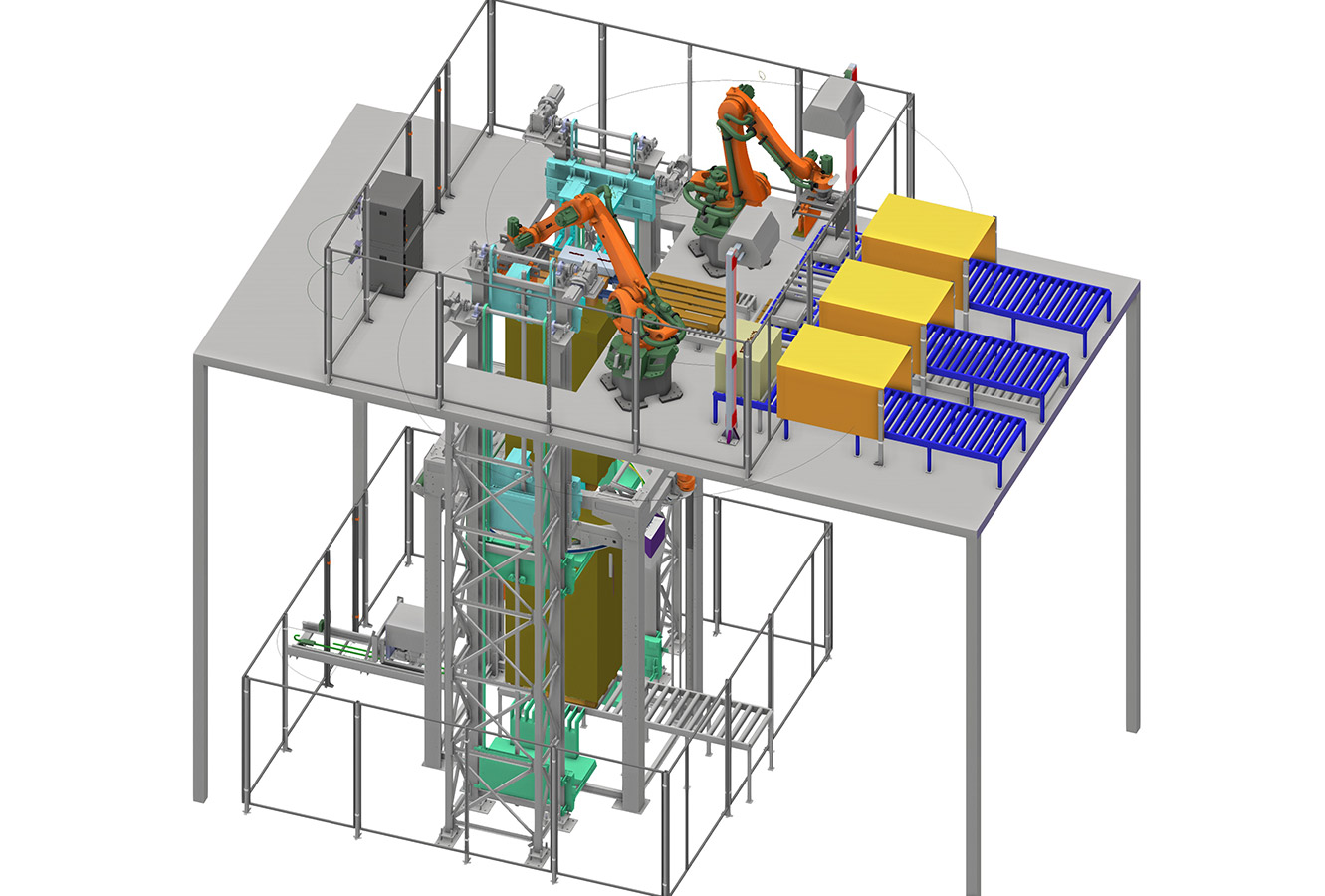 Mixed Palletizing
Mixed palletizing enables efficient palletizing of mixed products that are stabilized and protected by stretch wrapping. The advantages of this system include software-controlled patterning, simultaneous palletizing and stretching, an integrated wrapper with automatic film change, and the addition of a top layer. In addition, it allows handling of different product sizes and the combination of vacuum and clamp gripping systems. With an impressive cycle time of just 4 seconds per package, mixed palletizing is particularly effective in the field.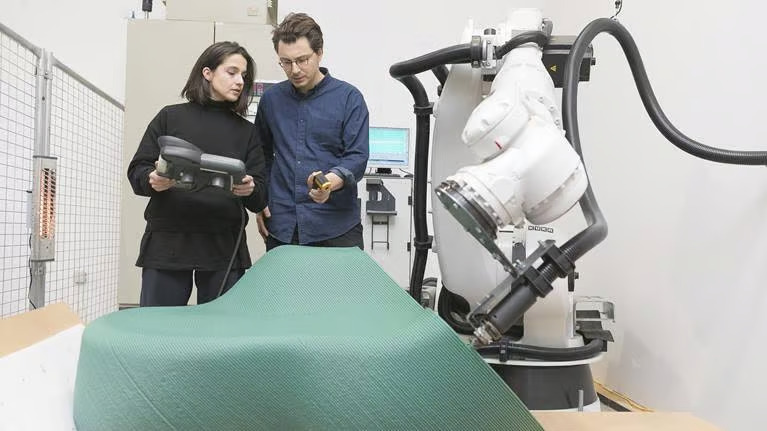 3D-Printing Robot cells
Robotic 3D printing is becoming increasingly important in the manufacturing industry. Unlike traditional 3D printers, robots enable a larger workspace and faster production of parts. With our experience in robotic extrusion and laser additive manufacturing, we support you from design and material evaluation to feasibility studies, manufacturing, delivery and commissioning of our robotic 3D printing solutions.
Reis Robotics
Walter-Reis-Straße 1, 63785 Obernburg, Germany
Aretè Cocchi Technology is an industrial group devoted to innovation, technology and growth. Established in the 90s by Gino Cocchi, today ACT consists of 14 companies that employ more than 850 people worldwide, representing more than 30 nationalities. Manufacturing in Italy, France, Germany, the U.S., Switzerland and China; commercial and technical centers in more than 15 countries; and sales in over 100 countries.